La Nuit de Monte-Cristo
For one Saturday night every June, troupes of artists and performers descend on the park for a party under the stars. Dumas would certainly have approved...
la Nuit de Monte-Cristo 2013 - American night !
Saturday, 1st june, 8.30 pm to 11.30pm

Cow boys and indians will meet in Alexandre Dumas' park for one night...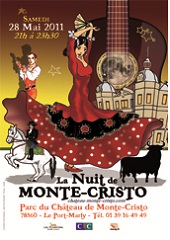 The Nuit de Monte-Cristo is a night of fun and family entertainment. Costumed characters stroll the lawns, musketeers show off their sword skills, jugglers, stilt-jumpers, magicians, fire-dancers are in the park...
Conviviality is the order of the night.

Join the party and take a step back in time.
Photos and videos of the 2010 event...
Photos and videos of the 2009 event...
Photos and videos of the 2008 event...
Photos and videos of the 2007 event...
Photos and videos of the 2006 event...

Information
Tél. : +33 1 39 16 49 49

We advise reservation to avoid queuing on the night.
Tickets are also sold on the door. Doors open at 8.30pm.
Please note: tickets cannot be reserved by telephone or post.
Advance tickets can be bought at the chateau reception, from 1st may 10am to 12.15pm and 3pm to 6pm.
Please note, on Saturday 1st June, the chateau reception is open but the park and chateau are closed to the public.
Tickets Nuit de Monte-Cristo (2013)
Adults and children over 10: 10 €
Reductions (on production of a carte famille nombreuse): 7 €

Children under 10 years old: 3 €